Welcome to Swing and Samba
NYC Classes begin Friday, October 7!
Peekskill Classes begin Tuesday, October 4!
at EMBARK's new location - The Flatz!
Swing Dancing comes to
Northern Westchester
This Friday!
Swing Out in Poughkeepsie!
Join me for 2 fun workshops and great dancing!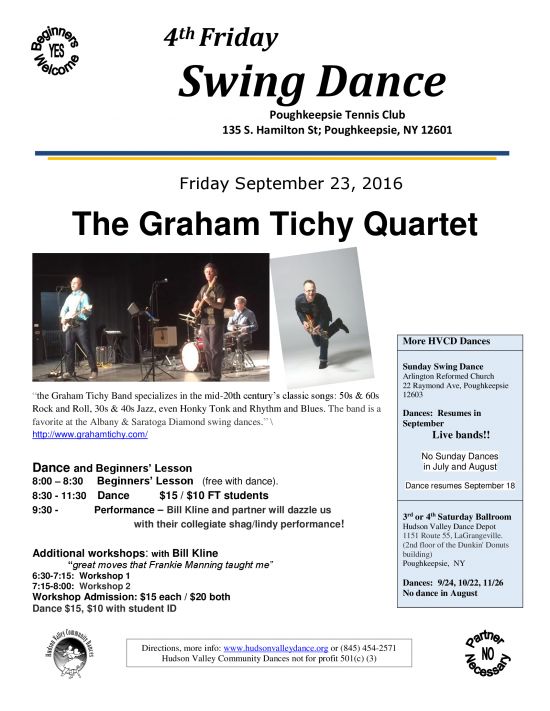 This Saturday!
Swing Out at The FLATZ!
Join us as we begin our 3rd season featuring live music by Honey!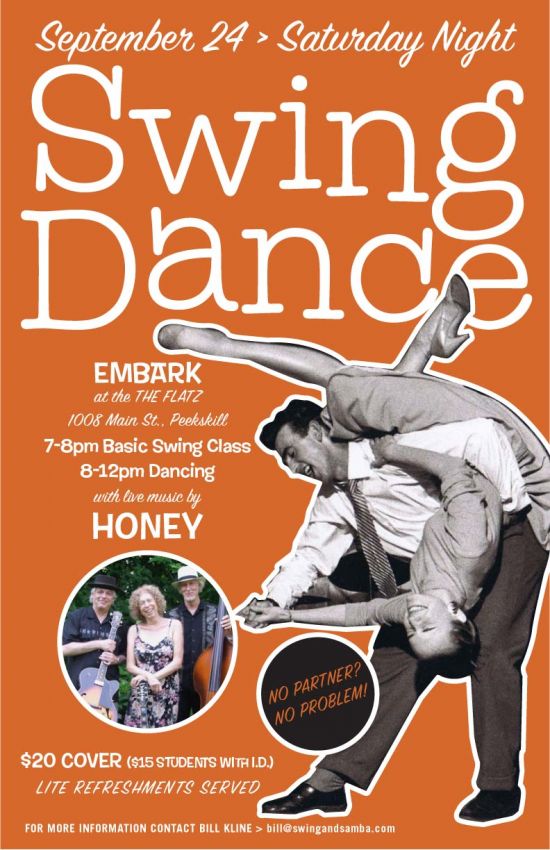 Peekskill Swing Classes!
We are now teaching two classes at EMBARK Peekskill in addition to our NYC classes.
 
Beyond Basic Swing, Tuesday 7:00pm
For dancers who have only had a few classes or only the basic lesson at a swing dance.
 NYC Friday Swing Classes
6:30 Intermediate/Advanced
7:30 Pre-intermediate
8:30 Basic
Coming soon!  Samba de Gafieira!
Registration online
Classes are continuing on Friday evenings at:
440 Studios
440 Lafayette Street
Studio 3C
For more information contact us:
bill@swingandsamba.com
You must install Adobe Flash to view this content.
Here we are with Meredith Harte performing a little jazz, shim-sham, big apple at our recent Saturday Night Swing in Peekskill!